Card: King Of The World - Beat
From DropMixin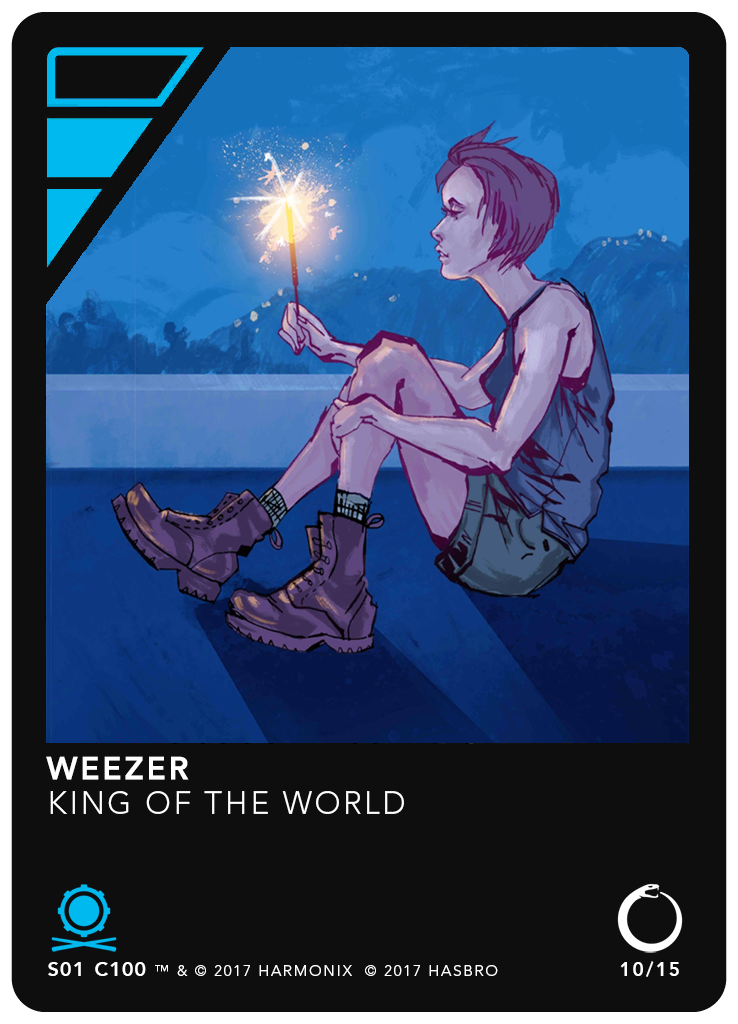 Song: King Of The World
Artist: Weezer
Illustrator: Hannah Lawler
Power: 2
Type: Beat
Instrument(s):


Playlist:

(Ouroboros)
Playlist Index: 10/15
Season: 1
Source: Ouroboros Playlist Pack
Tempo: 80 bpm
Genre: Pop, Rock

---
Sub-Genre: rock
Year: 2016
CID: s01_c100_i04_kingoftheworld_beat
Source CID: LIC_0145_Beat
CTI: 59223
Item Id: i04
Item Type: Playlist
Deck Id: 7
Print Id: S01 C100
Audio: KingOfTheWorld_BEAT
Length: 32 bars

---
Credits:
KING OF THE WORLD AS PERFORMED BY WEEZER COURTESY OF ATLANTIC RECORDING CORP. (P) 2016 WEEZER UNDER EXCLUSIVE LICENSE TO CRUSH MUSIC / ATLANTIC RECORDING CORP. BY ARRANGEMENT WITH WARNER MUSIC GROUP VIDEO GAME LICENSING. WRITTEN BY RIVERS CUOMO AND JARRAD KRITZSTEIN. PUBLISHED BY E.O. SMITH MUSIC (BMI) BY ARRANGEMENT WITH WIXEN MUSIC PUBLISHING, INC., BMG PLATINUM SONGS OBO ITSELF, PHAT COUNTRY MUSIC, AND PULSE VENTURES. ALL RIGHTS RESERVED. USED BY PERMISSION. ALL RIGHTS ADMINISTERED BY BMG RIGHTS MANAGEMENT (US) LLC.
---
Illustration: