Card: Animals - Beat
From DropMixin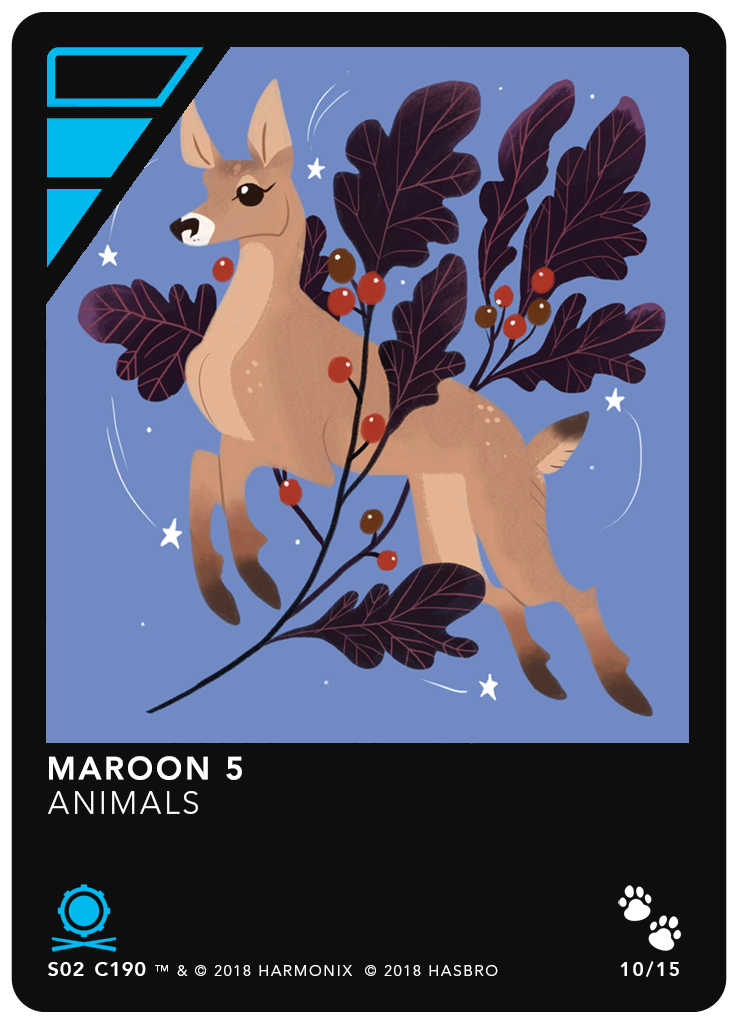 Song: Animals
Artist: Maroon 5
Illustrator: Reimena Yee
Power: 2
Type: Beat
Instrument(s):


Playlist:

(Instinct)
Playlist Index: 10/15
Season: 2
Source: Instinct Playlist Pack
Tempo: 95 bpm
Genre: Pop, Rock

---
Year: 2014
CID: s02_c190_i13_animalsm5_beat
Source CID: LIC_0169_Beat
CTI: 9430
Item Id: i13
Item Type: Playlist
Deck Id: 13
Print Id: S02 C190
Audio: AnimalsM5_DMS
Length: 32 bars

---
Credits:
ANIMALS AS PERFORMED BY MAROON 5 COURTESY OF INTERSCOPE RECORDS UNDER LICENSE FROM UNIVERSAL MUSIC ENTERPRISES. WRITTEN BY BENJAMIN LEVIN (BMI), JOHAN SCHUSTER (ASCAP), AND ADAM NOAH LEVINE. PUBLISHED BY WHERE DA KASZ AT?/PRESCRIPTION SONGS LLC (BMI), MXM (ASCAP), MATZA BALLZACK MUSIC (BMI), AND SONGS OF UNIVERSAL, INC. ON BEHALF OF ITSELF AND SUDGEE 2 MUSIC (BMI). ADMINISTERED BY SONGS OF KOBALT MUSIC PUBLISHING (BMI) AND KOBALT SONGS MUSIC PUBLISHING (ASCAP).
---
Illustration: