Card: Boom Boom Pow - Beat
From DropMixin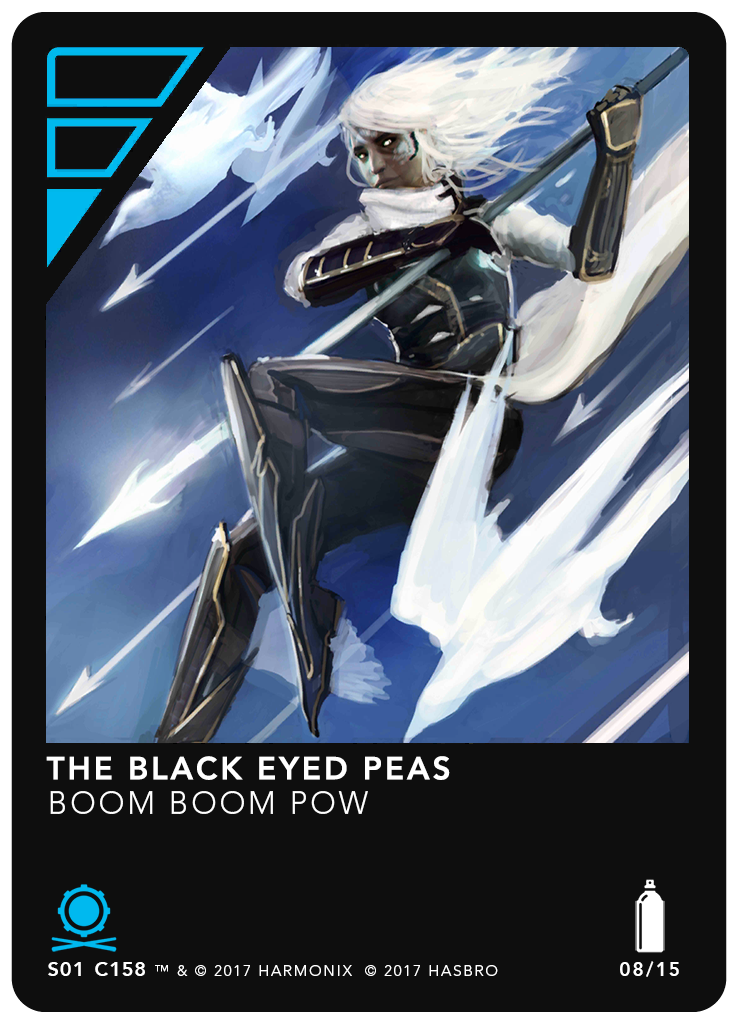 Song: Boom Boom Pow
Artist: The Black Eyed Peas
Illustrator: Lauren Saint Onge
Power: 1
Type: Beat
Instrument(s):


Playlist:

(Bomb)
Playlist Index: 8/15
Season: 1
Source: Bomb Playlist Pack
Tempo: 130 bpm
Genre: Pop

---
Sub-Genre: dancepop
CID: s01_c158_i08_boomboompow_beat
Source CID: LIC_0013_Beat
CTI: 24112
Item Id: i08
Item Type: Playlist
Deck Id: 11
Print Id: S01 C158
Audio: BoomBoomPow_DMS
Length: 32 bars

---
Credits:
BOOM BOOM POW AS PERFORMED BY THE BLACK EYED PEAS COURTESY OF INTERSCOPE RECORDS UNDER LICENSE FROM UNIVERSAL MUSIC ENTERPRISES. WRITTEN BY WILL ADAMS, JAMIE GOMEZ, ALLAN PINEDA, AND STACY FERGUSON. PUBLISHED BY BMG SAPPHIRE SONGS OBO ITSELF, I AM COMPOSING LLC, TAB MAGNETIC PUBLISHING, AND APL DE AP PUBLISHING LLC; EMI APRIL MUSIC INC.; AND HEADPHONE JUNKIE PUBLISHING. ALL RIGHTS ADMINISTERED BY BMG RIGHTS MANAGEMENT (US) LLC.
---
Illustration: