Card: Emperor's New Clothes - Beat
From DropMixin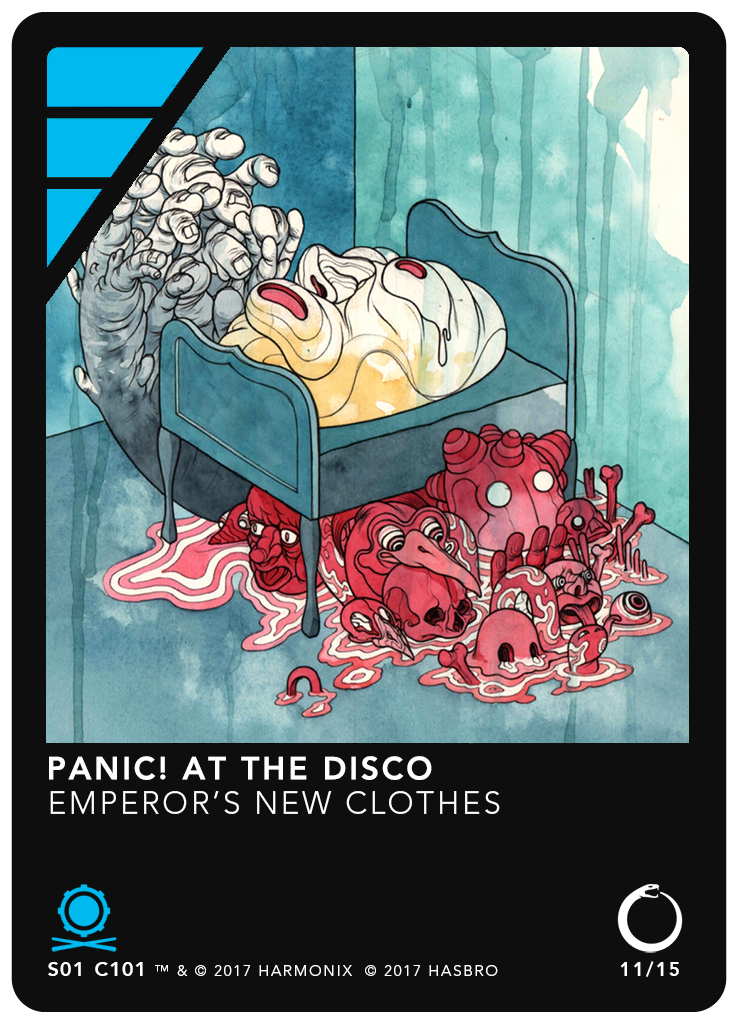 Song: Emperor's New Clothes
Artist: Panic! At The Disco
Illustrator: Zach Johnsen
Power: 3
Type: Beat
Instrument(s):


Playlist:

(Ouroboros)
Playlist Index: 11/15
Season: 1
Source: Ouroboros Playlist Pack
Tempo: 95 bpm
Genre: Pop, Rock

---
Sub-Genre: poprock
Year: 2016
CID: s01_c101_i04_emperorsnewclothes_beat
Source CID: LIC_0146_Beat
CTI: 43778
Item Id: i04
Item Type: Playlist
Deck Id: 7
Print Id: S01 C101
Audio: EmperorsNewClothes_BEAT
Length: 32 bars

---
Credits:
EMPEROR'S NEW CLOTHES AS PERFORMED BY PANIC! AT THE DISCO COURTESY OF ATLANTIC RECORDING CORP. (P) 2015 FUELED BY RAMEN LLC BY ARRANGEMENT WITH WARNER MUSIC GROUP VIDEO GAME LICENSING. WRITTEN BY SAMUEL HOLLANDER (ASCAP), BRENDON URIE (ASCAP), DANIEL DODD WILSON, JACOB SCOTT SINCLAIR, AND LAUREN PRITCHARD. PUBLISHED BY SLUSHIE FUND (ASCAP), LISTEN TO THIS SHHH (ASCAP), BMG MONARCH OBO ITSELF AND SUGAR LAKE MUSIC, BMG GOLD SONGS OBO SONGS OF BIG DEAL, BMG PLATINUM SONGS OBO ITSELF AND MANES AND REINS PUBLISHING, SONY/ATV SONGS LLC, AND LOLOPRITCH MUSIC. ADMIN BY KOBALT SONGS MUSIC PUBLISHING. ALL RIGHTS ADMINISTERED BY BMG RIGHTS MANAGEMENT (US) LLC.
---
Illustration: