Card: La Mordidita (ft. Yotuel) - Beat
From DropMixin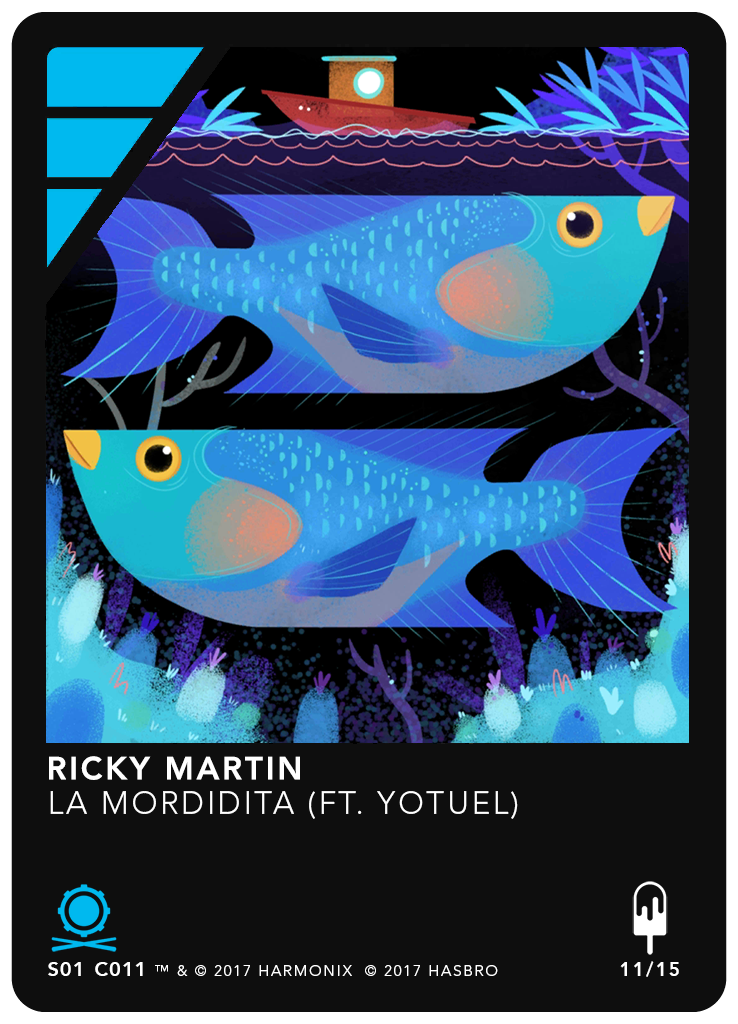 Song: La Mordidita (ft. Yotuel)
Artist: Ricky Martin
Illustrator: Gianna Ruggiero
Power: 3
Type: Beat
Instrument(s):


Playlist:

(Sweets)
Playlist Index: 11/15
Season: 1
Source: Base Game
Tempo: 142 bpm
Genre: Latin, Pop

---
Sub-Genre: latinpop
Year: 2015
CID: s01_c011_i01_lamordidita_beat
Source CID: LIC_0056_Beat
CTI: 15705
Item Id: i01
Item Type: Starter
Deck Id: 1
Print Id: S01 C011
Audio: LaMordidita_BEAT
Length: 32 bars

---
Credits:
LA MORDIDITA AS PERFORMED BY RICKY MARTIN FT. YOTUEL COURTESY OF SME US LATIN LLC BY ARRANGEMENT WITH SONY MUSIC LICENSING. WRITTEN BY BEATRIZ LUENGO GONZALEZ, ENRIQUE MARTIN, JOTUEL OMAR ROMERO MANZANARES, JOSE M. GOMEZ-MARTINEZ, AND PEDRO FRANCISCO RODRIGUEZ SOSA. PUBLISHED BY SONY/ATV LATIN MUSIC PUBLISHING LLC, SONY/ATV DISCO MUSIC PUBLISHING LLC, DHARMIK MUSIC, SUERTE PUBLISHING, UNIVERSAL MUSICA, INC. (ASCAP), WB MUSIC CORP. (ASCAP) AND DROLLABIES PUBLISHING (ASCAP). ALL RIGHTS OBO ITSELF AND DROLLABIES PUBLISHING ADMINISTERED BY WB MUSIC CORP.
---
Illustration: