Card: No Scrubs - Lead
From DropMixin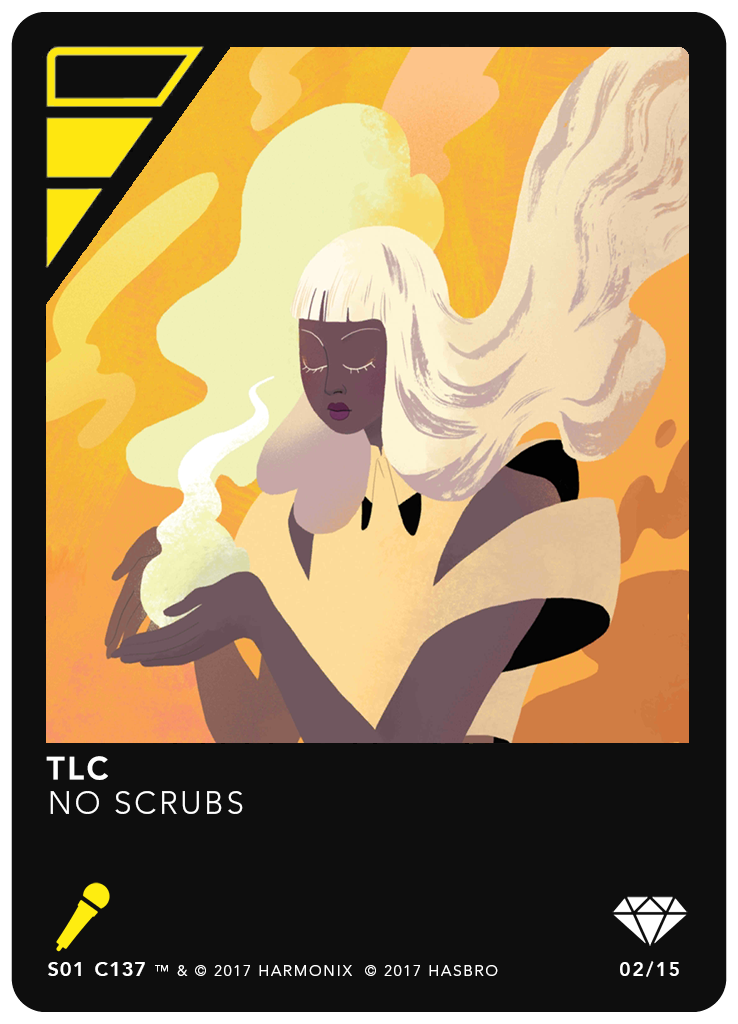 Song: No Scrubs
Artist: TLC
Illustrator: Kimberly Salt
Power: 2
Type: Lead
Instrument(s):


Playlist:

(Flawless)
Playlist Index: 2/15
Season: 1
Source: Flawless Playlist Pack
Key: Ab minor
Tempo: 93 bpm
Genre: Pop, R&B

---
Sub-Genre: hiphop
Year: 1999
CID: s01_c137_i07_noscrubs_lead
Source CID: LIC_0143_Lead
CTI: 14758
Item Id: i07
Item Type: Playlist
Deck Id: 10
Print Id: S01 C137
Audio: NoScrubs_LEAD
Length: 32 bars

---
Credits:
NO SCRUBS AS PERFORMED BY TLC COURTESY OF RCA RECORDS BY ARRANGEMENT WITH SONY MUSIC LICENSING. WRITTEN BY KEVIN BRIGGS, LISA NICOLE LOPES, KANDI BURRUSS, AND TAMEKA COTTLE. PUBLISHED BY SONGS OF WINDSWEPT PACIFIC OBO HITCO MUSIC AND SHEK'EM DOWN MUSIC, EMI APRIL MUSIC INC., AIR CONTROL MUSIC, KANDACY MUSIC, TINY TAM MUSIC, PEPPER DRIVE MUSIC (BMI), AND TONY MERCEDES MUSIC (ASCAP). ALL RIGHTS ADMINISTERED BY BMG RIGHTS MANAGEMENT (US) LLC. ALL RIGHTS OBO PEPPER DRIVE MUSIC ADMINISTERED BY WARNER-TAMERLANE PUBLISHING CORP. ALL RIGHTS OBO TONY MERCEDES MUSIC ADMINISTERED BY WB MUSIC CORP.
---
Illustration: