Card: Save a Horse (Ride a Cowboy) - Beat
From DropMixin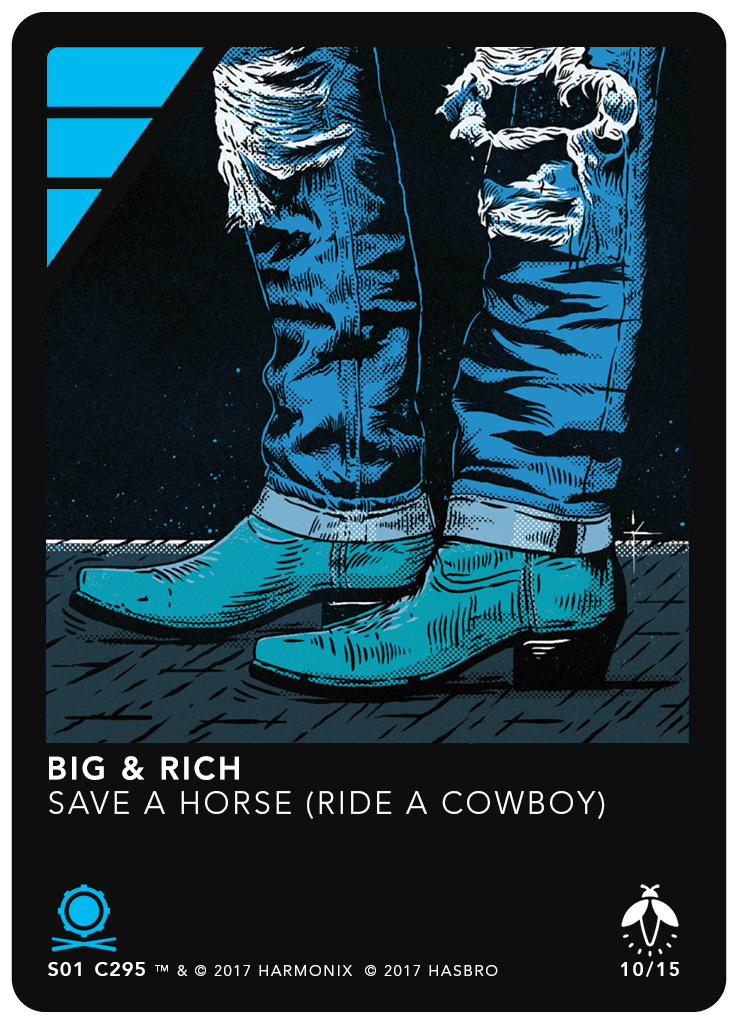 Song: Save a Horse (Ride a Cowboy)
Artist: Big & Rich
Illustrator: Adam Hill
Power: 3
Type: Beat
Instrument(s):


Playlist:

(Moonlight)
Playlist Index: 10/15
Season: 1
Source: Discover Series 3 Pack 1
Tempo: 102 bpm
Genre: Country

---
Sub-Genre: popcountry
Year: 2004
CID: s01_c295_i17_saveahorse_beat
Source CID: LIC_0097_Beat
CTI: 24497
Item Id: i17
Item Type: Discovery
Deck Id: 20
Print Id: S01 C295
Audio: SaveAHorse_BEAT
Length: 32 bars

---
Credits:
SAVE A HORSE, RIDE A COWBOY AS PERFORMED BY BIG & RICH COURTESY OF WARNER BROTHERS RECORDS (P) 2012 WARNER BROTHERS RECORDS. BY ARRANGEMENT WITH WARNER MUSIC GROUP VIDEO GAME LICENSING. WRITTEN BY JOHN RICH AND KENNY ALPHIN. PUBLISHED BY RESERVOIR MEDIA MUSIC/RESERVOIR 416.
---
Illustration: