Card: Sexy And I Know It - Bass
From DropMixin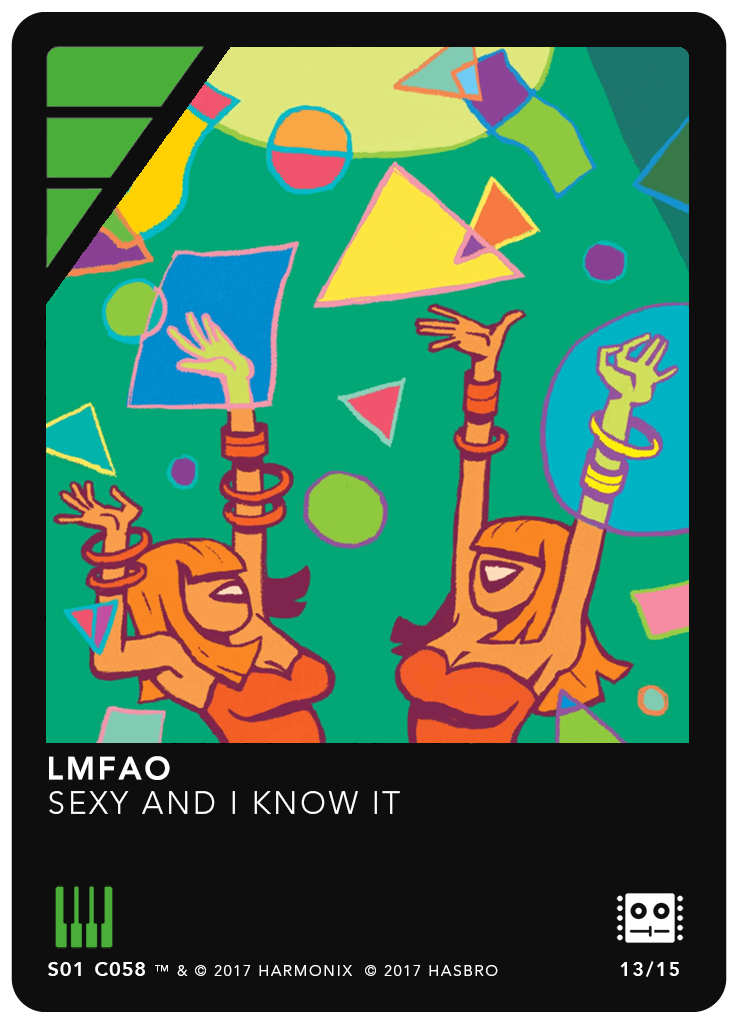 Song: Sexy And I Know It
Artist: LMFAO
Illustrator: Chris E. O'Neill
Power: 3
Type: Bass
Instrument(s):


Playlist:

(Controller)
Playlist Index: 13/15
Season: 1
Source: Base Game
Key: G minor
Tempo: 130 bpm
Genre: Pop

---
Sub-Genre: pop
Year: 2011
CID: s01_c058_i01_sexyandiknowit_bass
Source CID: LIC_0060_Bass
CTI: 61529
Item Id: i01
Item Type: Starter
Deck Id: 4
Print Id: S01 C058
Audio: SexyAndIKnowIt_BASS
Length: 32 bars

---
Credits:
SEXY AND I KNOW IT AS PERFORMED BY LMFAO COURTESY OF INTERSCOPE RECORDS UNDER LICENSE FROM UNIVERSAL MUSIC ENTERPRISES. WRITTEN BY STEFAN GORDY, KENNY OLIVER, SKYLER GORDY, DAVID LISTENBEE, ERIN BECK, AND GEORGE ROBERTSON (ASCAP). PUBLISHED BY YEAH BABY MUSIC, CHEBRA MUSIC, ESKAYWHY PUBLISHING (ASCAP), AND HI MOM I DID IT (ASCAP). ADMIN BY KOBALT SONGS MUSIC PUBLISHING.
---
Illustration: