Card: Want To Want Me - Lead
From DropMixin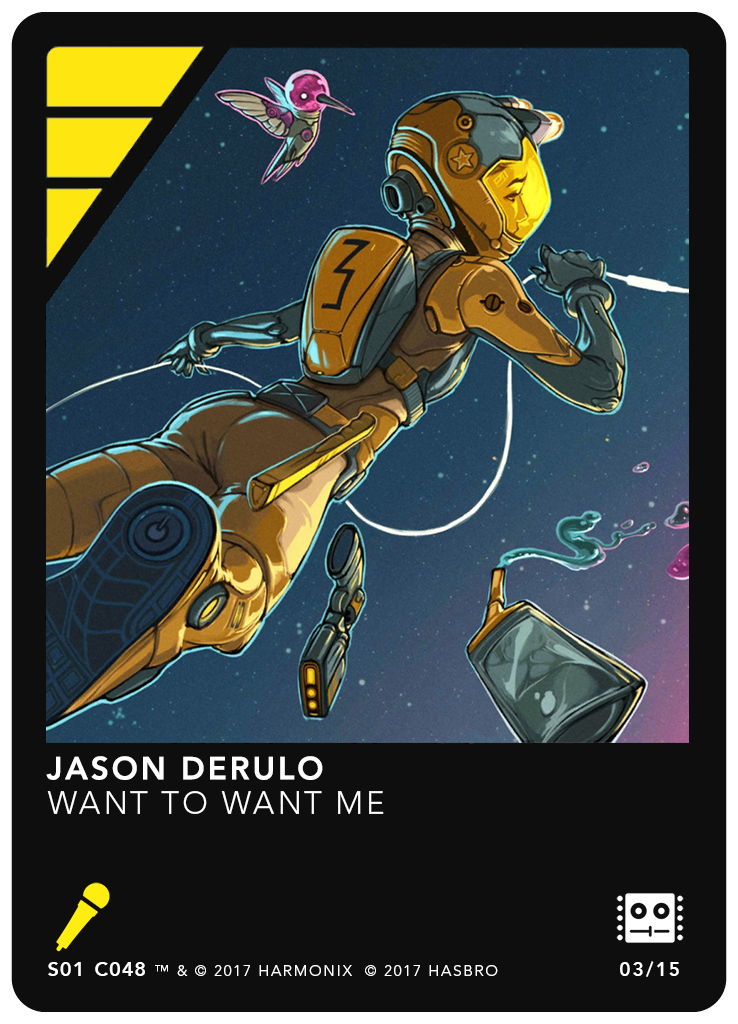 Song: Want To Want Me
Artist: Jason Derulo
Illustrator: Alex Dos Diaz
Power: 3
Type: Lead
Instrument(s):


Playlist:

(Controller)
Playlist Index: 3/15
Season: 1
Source: Base Game
Key: Eb major
Tempo: 114 bpm
Genre: Pop, R&B

---
Sub-Genre: soul
Year: 2015
CID: s01_c048_i01_wanttowantme_lead
Source CID: LIC_0118_Lead
CTI: 24237
Item Id: i01
Item Type: Starter
Deck Id: 4
Print Id: S01 C048
Audio: WantToWantMe_LEAD
Length: 32 bars

---
Credits:
WANT TO WANT ME AS PERFORMED BY JASON DERULO COURTESY OF WARNER BROTHERS RECORDS. (P) 2015 WARNER BROS. RECORDS. BY ARRANGEMENT WITH WARNER MUSIC GROUP VIDEO GAME LICENSING. WRITTEN BY SAMUEL MARTIN, IAN KIRKPATRICK, LINDY ROBBINS, JASON JOEL DESROULEAUX AND MITCHELL ALLAN SCHERR. PUBLISHED BY ARTIST PUBLISHING GROUP WEST (ASCAP), SAM MARTIN MUSIC PUBLISHING (ASCAP), WARNER-TAMERLANE PUBLISHING CORP. (BMI), BUCKLEY TENENBAUM PUBLISHING (BMI), HEY KIDDO MUSIC (ASCAP). ADMIN BY KOBALT SONGS MUSIC PUBLISHING, IRVING MUSIC INC. OBO ITSELF, BELUGA HEIGHTS MUSIC, AND JASON DERULO PUBLISHING (BMI), AND BMG BUMBLEBEE OBO ITSELF AND PART OF THE PROBLEM PUBLISHING. ALL RIGHTS OBO ARTIST PUBLISHING GROUP WEST AND SAM MARTIN MUSIC PUBLISHING ADMINISTERED BY WB MUSIC CORP. ALL RIGHTS ADMINISTERED BY BMG RIGHTS MANAGEMENT (US) LLC.
---
Illustration: