Card: What Is Love - Wild
From DropMixin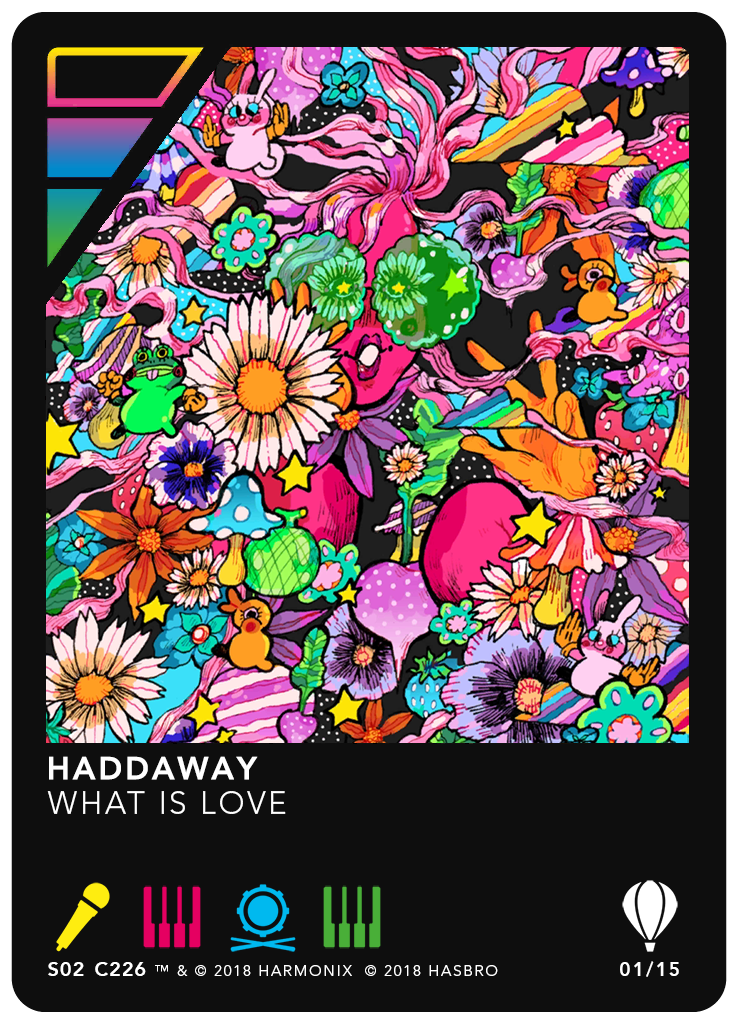 Song: What Is Love
Artist: Haddaway
Illustrator: Guinevere Reilly
Power: 2
Type: Wild
Instrument(s):





Playlist:

(Fantastic)
Playlist Index: 1/15
Season: 2
Source: Fantastic Playlist Pack
Key: G minor
Tempo: 124 bpm
Genre: Pop

---
Year: 1993
CID: s02_c226_i16_whatislove_wild
Source CID: LIC_0051_Wild
CTI: 44548
Item Id: i16
Item Type: Playlist
Deck Id: 16
Print Id: S02 C226
Transition: trans_WhatisLove
Audio: WhatIsLove
Length: 32 bars

---
Credits:
WHAT IS LOVE AS PERFORMED BY HADDAWAY © 1993 COCONUT MUSIC LTD. & CO., UNDER EXCLUSIVE LICENSE TO NEW RAZOR & TIE ENTERPRISES, LLC. COURTESY OF RAZOR & TIE RECORDINGS, A DIVISION OF CONCORD MUSIC. WRITTEN BY DEE DEE HALLIGAN AND JUNIOR TORELLO. PUBLISHED BY WARNER-TAMERLANE PUBLISHING CORP. (BMI) OBO HANSEATIC MUSIKVERLAG GMBH & CO KG (GEMA).
---
Illustration: