Card: Who Let The Dogs Out - Lead
From DropMixin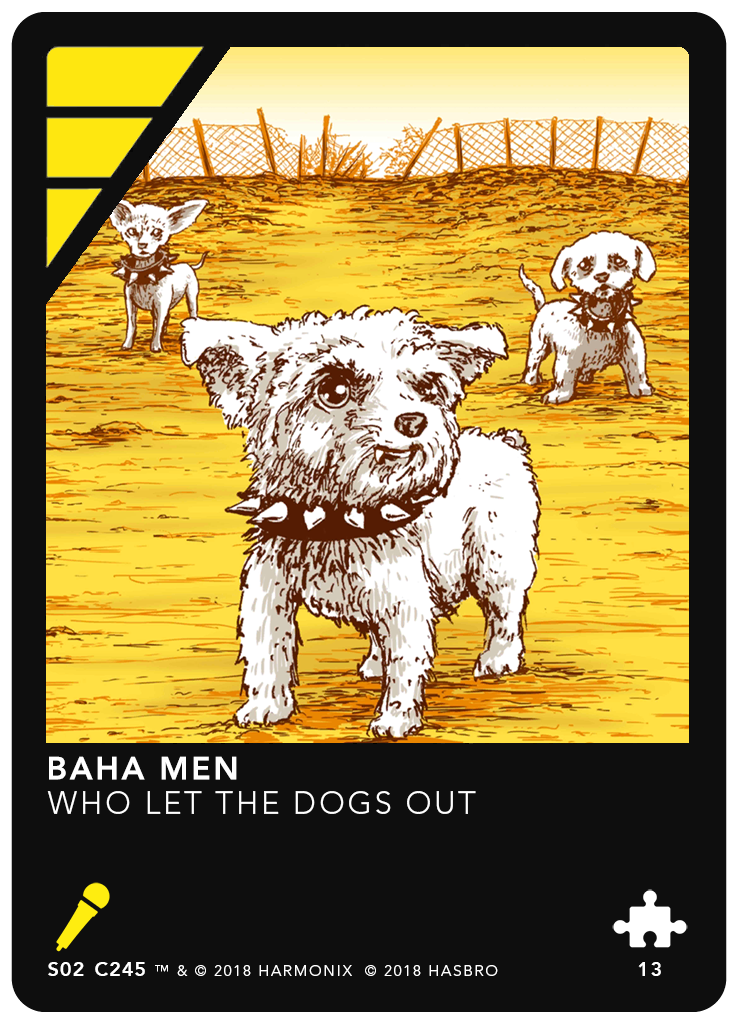 Song: Who Let The Dogs Out
Artist: Baha Men
Illustrator: Barry Blankenship
Power: 3
Type: Lead
Instrument(s):


Playlist:

(Baffler)
Playlist Index: 13/8
Season: 2
Source: Verdant Playlist Pack
Key: C major
Tempo: 130 bpm
Genre: Pop

---
Year: 2000
CID: s02_c245_i09_wholetthedogsout_lead
Source CID: LIC_0165_Lead
CTI: 24163
Item Id: i09
Item Type: Playlist
Deck Id: 17
Print Id: S02 C245
Audio: WhoLetTheDogsOut_VOX
Length: 32 bars

---
Credits:
WHO LET THE DOGS OUT AS PERFORMED BY BAHA MEN COURTESY OF CAPITOL RECORDS UNDER LICENSE FROM UNIVERSAL MUSIC ENTERPRISES. WRITTEN BY ANSLEM DOUGLAS AND OSBERT GURLEY. PUBLISHED BY BMG PLATINUM SONGS ON BEHALF OF ITSELF AND HYCKRYCK MUSIC PUBLISHING, INC., AND FULL WINGSPAN MUSIC/WYZ GIRL (BMI). ADMINISTERED BY BMG RIGHTS MANAGEMENT (US) LLC.
---
Illustration: