Card: Work From Home - Wild
From DropMixin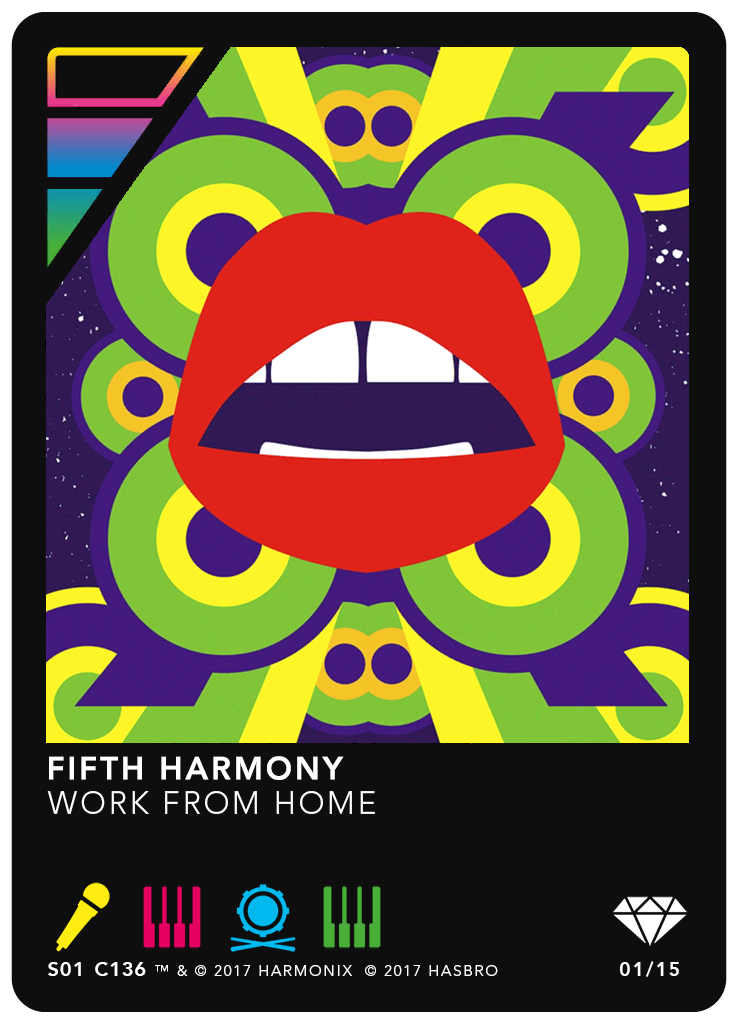 Song: Work From Home
Artist: Fifth Harmony
Illustrator: Dan Stiles
Power: 2
Type: Wild
Instrument(s):





Playlist:

(Flawless)
Playlist Index: 1/15
Season: 1
Source: Flawless Playlist Pack
Key: Ab major
Tempo: 105 bpm
Genre: Pop, R&B

---
Sub-Genre: pop
Year: 2016
CID: s01_c136_i07_workfromhome_wild
Source CID: LIC_0148_Wild
CTI: 36738
Item Id: i07
Item Type: Playlist
Deck Id: 10
Print Id: S01 C136
Transition: trans_WFH
Audio: WorkFromHome
Length: 32 bars

---
Credits:
WORK FROM HOME AS PERFORMED BY FIFTH HARMONY COURTESY OF EPIC RECORDS BY ARRANGEMENT WITH SONY MUSIC LICENSING. WRITTEN BY DALLAS KOEHLKE (ASCAP), JOSHUA COLEMAN (ASCAP), ALEXANDER IZQUIERDO, JUDE DEMOREST, TYRONE WILLIAM GRIFFIN JR., AND BRIAN D LEE. PUBLISHED BY DALLASK MUSIC (ASCAP), PRESCRIPTION SONGS (ASCAP), EACH NOTE COUNTS (ASCAP), BMG GOLD SONGS OBO ITSELF AND AIX PUBLISHING, © SONGS OF UNIVERSAL, INC. OBO ITSELF AND FOX FILM MUSIC CORP., EMI BLACKWOOD MUSIC INC., ITS DRUGS PUBLISHING, AND WARNER-TAMERLANE PUBLISHING CORP. (BMI) AND SONGS FROM THE DONG (BMI). ADMIN BY KOBALT SONGS MUSIC PUBLISHING. ALL RIGHTS ADMINISTERED BY BMG RIGHTS MANAGEMENT (US) LLC. ALL RIGHTS OBO ITSELF AND SONGS FROM THE DONG ADMINISTERED BY WARNER-TAMERLANE PUBLISHING CORP.
---
Illustration: