Song: Like A G6 (ft. The Cataracs & DEV)
From DropMixin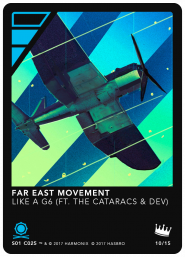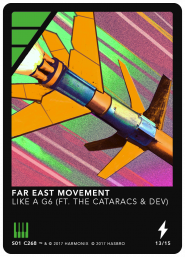 Song: Like A G6 (ft. The Cataracs & DEV)
Artist: Far East Movement
Illustrator: Lauren Saint Onge
Instrument(s):




Playlist(s):


(Breaker, Highness)
Season: 1
Key: G minor
Tempo: 125 bpm
Genre: Hip Hop

---
Sub-Genre: electronic
Year: 2010
Length: 32 bars

---
Credits:
LIKE A G6 AS PERFORMED BY FAR EAST MOVEMENT FT. THE CATARACS & DEV COURTESY OF INTERSCOPE RECORDS UNDER LICENSE FROM UNIVERSAL MUSIC ENTERPRISES. WRITTEN BY DAVID SINGER-VINE, NILES HOLLOWELL-DHAR, JAE CHOUNG (BMI), JAMES ROH (BMI), KEVIN NISHIMURA, AND VIRMAN COQUIA. PUBLISHED BY SONY/ATV TUNES LLC, INDIE POP MUSIC, DOWNTOWN DMP SONGS (BMI), FMONYOUR DIAL PUBLISHING (BMI), DOWNTOWN DLJ SONGS (ASCAP), FAR EAST MOVEMENT PUBLISHING (ASCAP), AND LA COQUIA NOSTRA (ASCAP) C/O MISSING LINK MUSIC LLC.